My flight was really early!  The express train direct left later than I wanted.  I decided to take the SkyBus from KL Sentral to the airport.  My last evening, with free time on my hands, I took the LRT rail to KL Sentral to shop for travel food and verify the bus schedule.  They confirmed the early start.  Even the people at the hostel confirmed that start later.  Perfect….or so I thought!
I stayed up late in a first time effort to adjust my internal clock before coming back to the US.  I slept for an hour and a half and woke at 2:30 am.  Awake, I decided to shower and head out early.  By 3:10, I was checked out and walking to the LRT station which is a very short walk from the hostel.  It was closed!  Surprised, I walked to the other entrance.  Closed also, no LRT this early!!!  Guess I need a taxi?
Walking back toward the street, I saw a taxi drive past me and head off on a side street.  No traffic at 3:20 am!  But I know that things are always working out for me, so I kept walking.  Concentrating on looking for a moving taxi, I nearly missed the one parked just ahead of me.
The window was open and I asked how much it was to KL Sentral?  Twenty Malaysian Ringits, roughly $4.5.  Within moments, he was showing me photo's of his three children, talking about how much he enjoys the peace of driving only at night and he dropped me next to my bus.
Even with the obstacle, I got on a bus 20 minutes earlier than I'd planned.  Then our speedy bus driver got us to the airport in 40 minutes rather than the 1 hour plus they post.  Perfect!
However, after walking all the way through the airport to departures, I learned it was the wrong airport?!  Oh well, things are always working out for me.
I walked back, a purple shuttle bus pulled up a couple minutes later and then I was in the right airport still with time to spare.
Flowing, listening, being flexible, all those qualities helped me stay peaceful and trusting in the face of obstacles.
My flight was really full but I noticed an empty window seat with an empty seat beside it at bulk head.  I moved up!  And I met Ted, born in India, raised in Malaysia and living in San Francisco.  Our conversation helped the 7 hour flight go fast.  He invited me to be his guest in the United Club!  I had a little over two hours until my next flight.
Good food, draft Japanese Asahi on tap, and a free shower to freshen up were all part of that experience!  Perfect!
Last Friday, I got online to see about booking an economy plus seat for the 10 hour flight home.  Something told me to wait so I did.  Monday, I looked again for my flight the next morning,  One row had three seats empty and the price had dropped nearly $70.  On the flight, I had a row to myself!  Listening pays and in this case, was much more comfortable!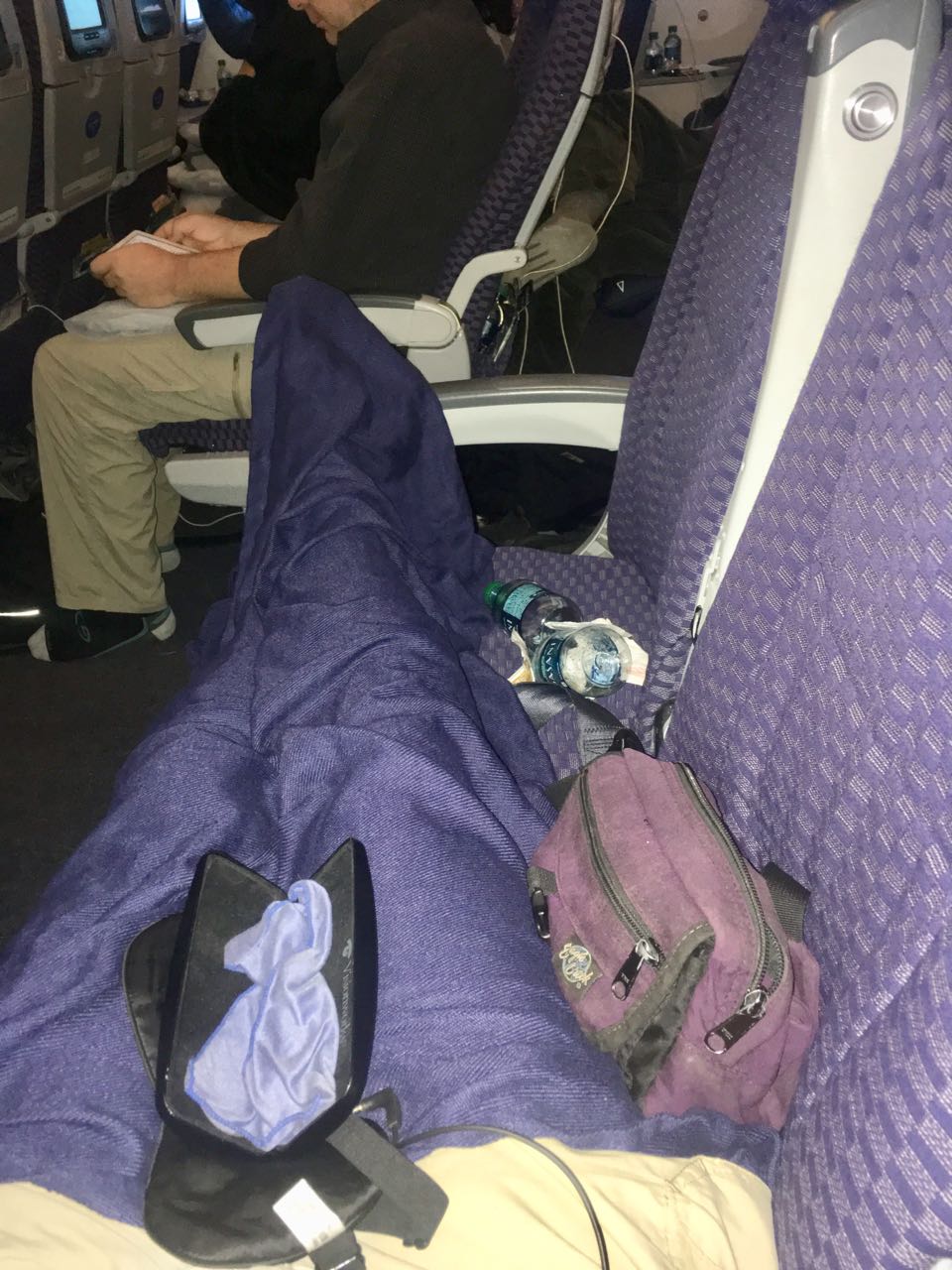 Our flight arrived 30 minutes early!  That was good!  The shuttle suggested I book their 1:00 pm shuttle even though my flight wasn't scheduled to arrive until 12:35.  Great news!
Bad news, we were so early customs wasn't ready!  We waited on the plane for nearly 30 minutes and I walked off at 12:25 feeling I might not make the shuttle but knowing everything would be OK!
Immigration was a breeze.  My pack was waiting for me.  I breezed through Customs with my Global Entry pass.  By 12:45, I was curbside waiting for my shuttle to bring me back to Longmont.
When I listen to and operate from that feeling of flow, it really is as if some invisible force is helping all kinds of cool things happen to help me on my way!
Ciao!