Hello and welcome!
Today I decided to catch up this site a little bit.  Honestly, I've had so many things going on, I've not put much attention here.  When I travel, I write every day.  Here at home, there has been so much going on with mom and dad (who passed July 1, 2015) that I've not had much focus elsewhere.
However, I'm always interested in travel and have a list of plans.  And, I've been helping friends plan trips to Thailand, to walk part of the Camino in Spain and several others who are interested in learning to take the plunge and do a self-directed trip somewhere.
So, a summary is in order.  In January of 2015, needing a break, I headed off to Bali to see the healers and friends who live there.  It was an amazing couple weeks of resting, healing, nurturing, exploration, coffee and so much more.
I was exhausted and when I saw two of my favorite healers, they soothed my apprehension by telling me "no problems, only stress" as they worked on me.  I felt a huge sigh of relief.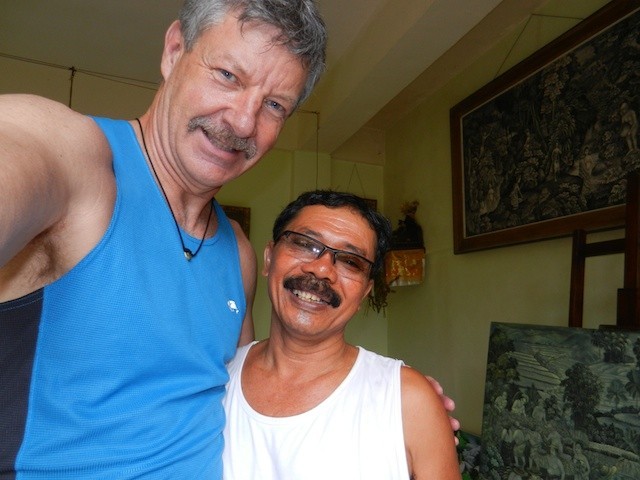 From Bali, I flew to Chiang Mai with Air Asia via Bangkok.  Be aware that Air Asia flies into the old airport there, not the new one.  And don't be alarmed when you get off the plane there and are surrounded by McDonalds, KFC, Subway, etc.  Walk farther and you'll find some Thai food.
In Chiang Mai, I took two days of cooking school.  The first, in the photo below, was "Smart Cooking".  This is the school requiring a train ride and bike ride to reach it.  Small, intimate (8 people), quiet and in the country.  Most excellent.
The second school was in Chiang Mai.  Large group (maybe 35 people), less intimate, noisy and I still learned some great tips.  My fried banana with coconut toffee sauce was a huge hit!  This was "Thai Kitchen Cooking Center".  And, years ago I took a class with "Gap's House" cooking school which was really good.
And a side note, I made spring rolls with peanut sauce and my friends heartily recommended it!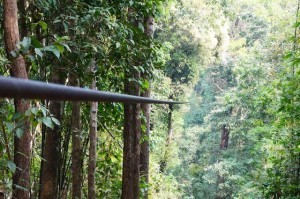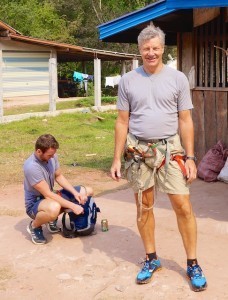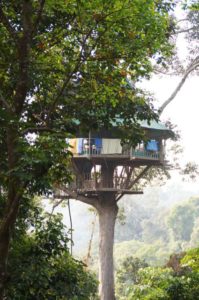 From Chiang Mai, I traveled overland to Laos by bus to Houay Xai.  Landed a spot in the Gibbon Experience, zip lined through the forest and into a tree house and then headed North to Luang Namtha.
I rode a motor bike within a few miles of China, kayaked and trekked the hills of this lovely small village.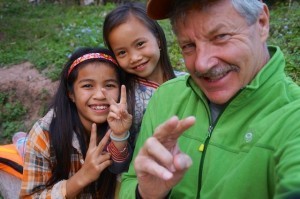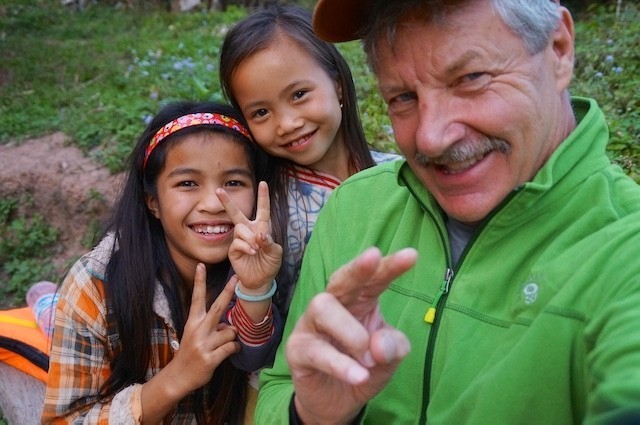 Photo with girls:  village children where we stayed overnight during the kayak and trek trip.
One lesson learned:  traveling during Chinese New Year…DO make reservations!  I wandered around Luang Prabang for a LONG time before finding a place with a room open for one night.  The next day I found a budget room that was OK.  And then stumbled upon a lovely guest house where I splurged and stayed for four nights!  I loved it here.
I visited Vang Vieng (only a couple nights), bused to Vientiane (ok but I'm not into large cities) and took an overnight bus to Pakse and onward to Don Knong in the 4,000 islands area.  People had raved about that area but it didn't float my boat.  Next time, I'd stay across the bridge in the village
Photo:  little girl bailing water out of mom's boat.
Backtracking, I went to Pakse and up into Paksong which is the Bolaven Plateau and Laotian coffee country.  Met great people there, helped village children start a garden, hung at the waterfalls and then headed to Southern Thailand to visit some new areas.
Koh Chang was not what I had hoped for from all the recommendations I'd read.  Koh Samet was not the dismal and overcrowded pit I'd been warned about.  And once again I was reminded of my favorite piece of travel advice:  "be prepared to ignore everyone else's advice and trust your own inner wisdom"!!!!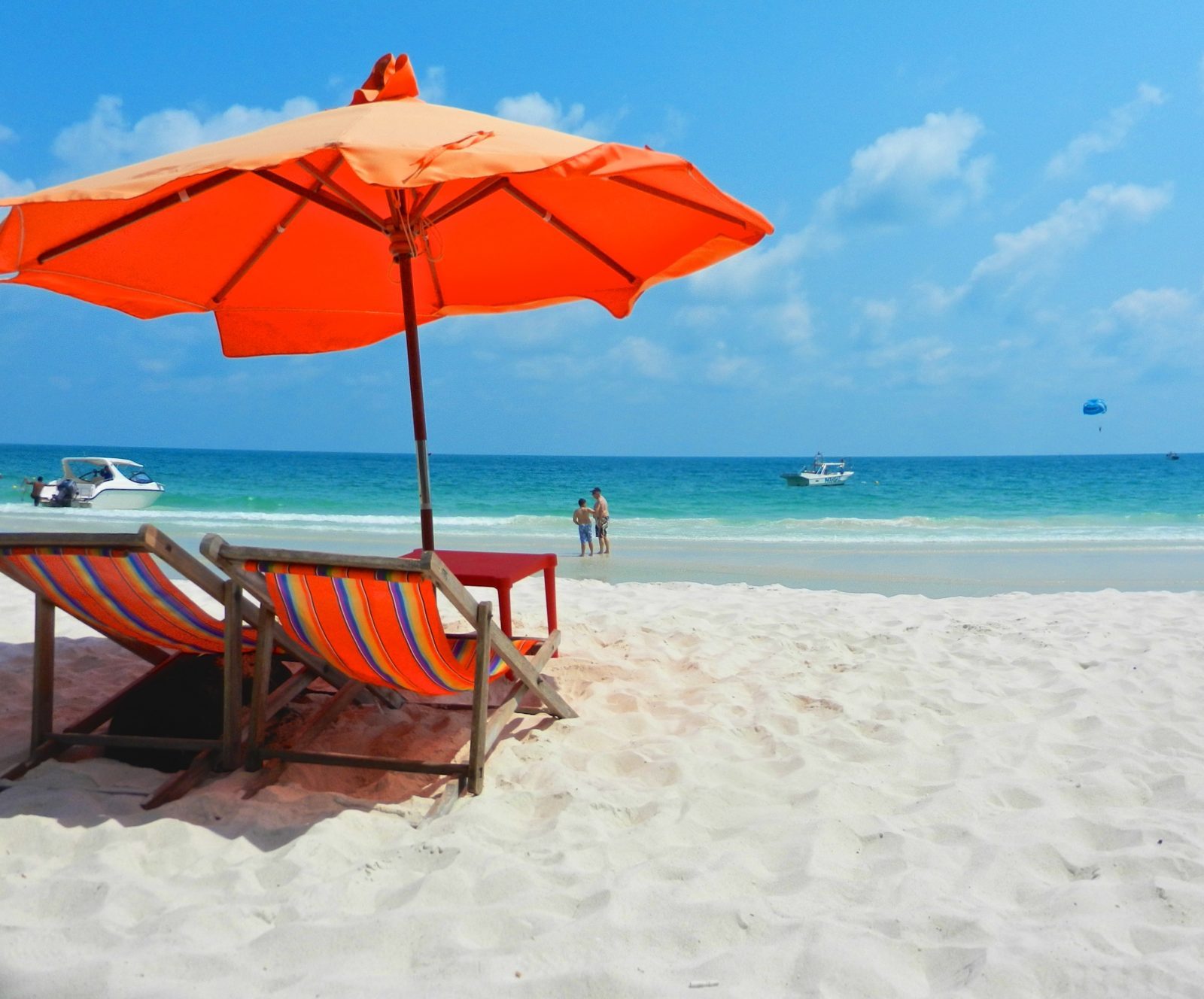 Photo with umbrella:  Koh Samet beach.  Yea, looks horrible, right?!
Old Sufi Saying:  only a fool trust anot
her's word over their own experience.
I had a couple days in Bangkok before coming home.  This was the first time I felt like a "walking ATM machine" there.  Certainly not everywhere but more than any previous trip.
If you are traveling and would like advice on places and travel suggestions, be in touch!
Ciao…Larry